A newly-wed couple arrives in their honeymoon hotel suite. The bride goes into the bathroom and returns a few minutes later wearing a rather flimsy nightgown. Her new husband says, "Honey take that off." She replies "No". Again, he says, "Come on honey, take that off." She replies, "No". A third time he says (quite angry), "Take that off". Again she replies, "No". He stands up, and says very angrily, "If you don't take that off, I'm leaving." She replies "No."

He storms out of the room and proceeds to the hotel lounge. After about an hour and a few drinks he feels quite remorseful about having had an argument with his new bride on their wedding night. He returns to their room only to find the door locked and bolted. He knocks lightly. She says "Yes, who is it. "He replies, "It's me hon' open the door." She replies, "No." He says, "Honey, I'm sorry, please open the door." She replies, "No." A little angry he says "Look I'm really sorry, open the door. "She replies, "No." His full anger has returned as he says "Look if you don't open this door I'm going to knock it down." After a brief pause she says, "Knock the door down, when did you get so strong, an hour ago you couldn't pick up a night gown!"
---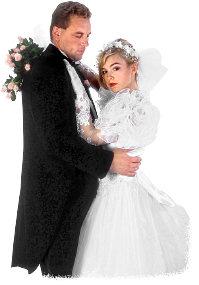 Answer: As every woman knows, the man was supposed to lovingly remove the nightgown, not demand that she take it off and stand blatantly, vulnerably, stark naked before him like some deer he had just bagged. A woman is shy and demure on her wedding night. Whether she is a virgin or not, the tone for the marriage is set on that very important evening and she wants to present herself to her new bridegroom as being "virginal" and shy. Intimacy is a "shared process," not a matter of one person making demands of another despite their wishes. This has the flavor of the Hollywood producer demanding to see the hopeful starlet naked and on his casting couch before "consummating" the deal. It would feel humiliating and too vulnerable to strip before a judge. This needed to be a shared process of two sensitive and willing players. For her to just "strip," may make her look less virtuous than she wishes to appear, and feel that way, too. She might be humiliated. Most women would. He needs to help her preserve her shyness, dignity, and innocence by very gently, slowly, respectfully, sensitively ... tenderly ... removing it from her himself.. kind of unwrapping her like a pristine and delicate wedding present. She is presenting herself to him. He needs to then "accept" her and "unwrap" her slowly and lovingly.. with respect. By not doing so, he makes her feel rejected. Had she removed the night gown herself on his demands, she might have felt undervalued, even "cheap." Had she taken it off in front of him as he demanded, she might have felt like a "stripper" and he might have even thought her morals were not so great after the fact, even though he had demanded it himself. Both of them might have lived to regret that act as the intimacy of their relationship might have begun on a sour note. She was trying to preserve it and start it on a good note.. but he was not listening .. not "catching" what she was trying to "pitch." But, it's not his fault.. Nor is it hers....

Unfortunately, many relationships are faced with such mixed messages and miscommunications on a daily basis. The solution is relatively simplistic, but getting to it is an educational process. This is a typical scenario in our culture and no one is at fault. But education is what is needed and both the men and women must learn, preferably together, or relationships are destined for failure. This "Joke" is not so much a "joke" as a very good lesson... and Sadly so.... In my coaching sessions, I teach "Relationship Communications" which will help to overcome this myth that women are from Venus and men are from Mars. We are all supposed to speak the language of Earth. Come to my sessions and learn what may seem to be a "Miracle Communications Cure" because of how powerful the results are and how easily the lessons can be learned. It doesn't hurt one single bit and it helps a great deal. Betcha didn't know all of this was going on under the surface. You and your life partner need to throw out the old language and begin to create a new, and much more simple one which works for both of you.. It's not your fault and not her fault.. No one is at fault and fault doesn't matter anyway. Only finding "Win-Win Solutions" matters. I can help with logical, scientifically-based education, with no blames and no faults and no attacks and no injured egos.. and very concisely and quickly. You have nothing to lose but your confusion and unhappiness and I'm sure you are willing to lose those. Write or call for an appointment alone or with your lady for one-to-one coaching or workshops if you have a group who wish to participate and find out "what women are really thinking."